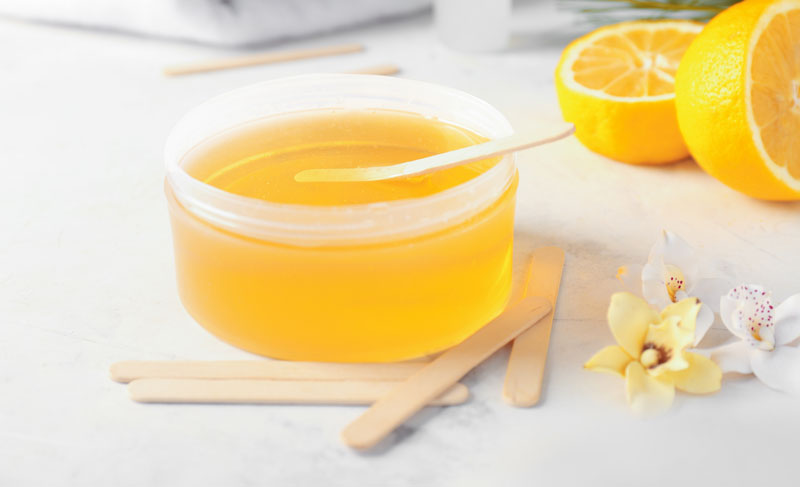 Lemon Juice and Sugar Gel
When you want a simple and effective home remedy to get rid of all that facial hair, upper lips and even body hairs, then there can be nothing better than a traditional sugar and lemon juice gel. This natural hair remover has been used by women over centuries to not only get rid of unwanted hairs but at the same time also to remove dullness for a brighter and more beautiful skin. While the melted sugar [which we have discussed later] pulls your hair roots, the lemon juice acts as an exfoliant to provide you with a softer and brighter body in no time.
Sugar
Fresh lemon juice
Distilled water
To make this amazing hair removing home remedy, first, take 2 tablespoons of sugar and 2 tablespoon of fresh lemon juice in a bowl and mix them lightly. Then pour 8-9 tablespoons of water in the mixture and put it on the stove to heat it up. Keep on stirring the mixture on the stove until bubble starts to appear. Once the mixture thickens, take it out of the stove and let it cool for a few minutes.
Transfer the mixture to a dry jar for later use.
When you are ready to try this traditional DIY hair removal gel on your body, using a spatula, smear the lemon sugar mixture on the desired area and let it sit for about 20-25 minutes. When the gel dries and the sugar hardens, pull it against the direction of hair [like you pull a mask] and voila, you have perfectly soft hairless skin-just as you have wanted.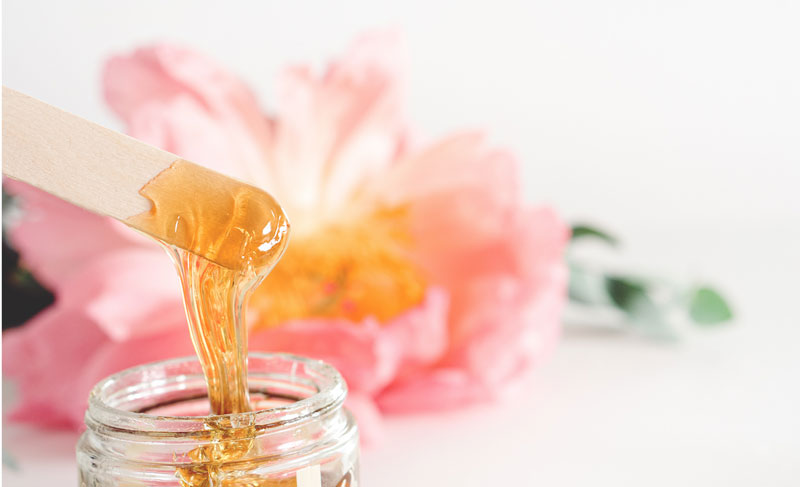 "Sugar waxing" or "sugaring "is one of the most common hair removal remedies used by women over centuries. From North America to the Mediterranean, and far Middle East- this easy yet effective hair removal method was popular amongst women all over the world. The reason behind its immense popularity is that this wax removes hairs from the roots without hurting or damaging your precious skin. The sugar hardens takes out the roots gently so that it is even safe to use on your face.
Granulated sugar
Your favorite essential oil
Cold water
To make this wax at the comfort of your home, first, pour 1 cup granulated sugar [we prefer this DOMINO GRANULATED PURE CANE WHITE SUGAR at Amazon] in a cooking pot and add 2 tablespoons of water and 2-3 drops of your favorite essential oils to it. You can also use a few drops of lemon juice instead of the essential oils.
Now put the pot on the stove and cook it in low heat until the mixture turns gooey and somewhat hard. Then turn off the heat and let the wax cool down to almost room temperature before using it on your face and body.
Using this sugar wax is extremely easy and fuss-free. Using a flat stick, take the cooled wax and spread it evenly over the desired area. Make sure that you work it in the same direction as your hair growth. Then, take a clean strip of fabric and place it over the wax firmly so that it doesn't come off in any way. Let the fabric sit for a few seconds on the sugar wax before you pull it off from your skin. Make sure that you pull it in the opposite direction of the hair growth for the best results.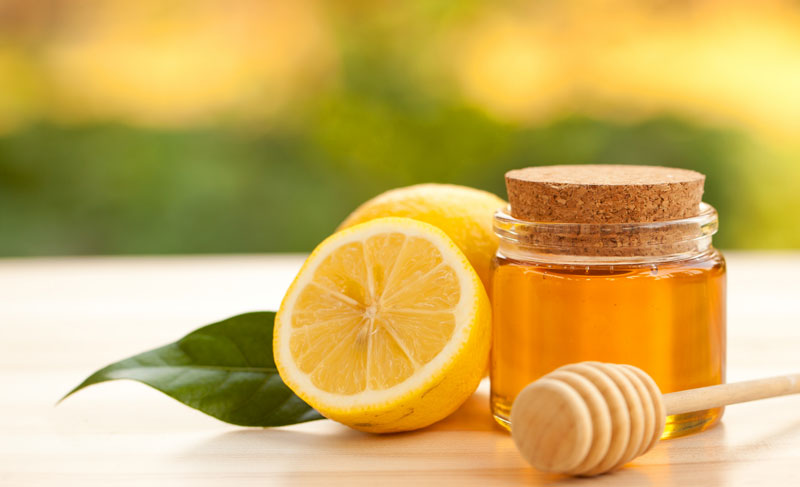 Honey and lemon wax is yet another effective home remedies you can use to safely remove any unwanted hair from the face or body. This wax is exceptionally good for dry skin because the honey in it nourishes your dry skin from deep inside and makes it supple like never before.
Moreover, as your face and body are hydrated enough, it will glow from within and feel smoother right after you pull out the unwanted hairs from it.
100% pure, organic honey
Lemon juice
Sugar
Distilled water
Cornstarch
Start off the process by mixing 2 tablespoon of sugar and 2 tablespoons of freshly-squeezed lemon juice with 1 tablespoon of honey [try out this Wedderspoon Raw Premium Manuka Honey at Amazon]. Stir well all the ingredients before putting them on a stove. Heat the honey mix for about 2-3 minutes, and remove it from the heat before it starts thickening. If the wax seems too thick for you, you can add a little bit of water just to make it a lighter consistency.
Once the wax is cooled down, it is actually ready to use. However, before applying the paste on your upper lips, jaws lines or body directly, first, dust a bit of cornstarch on the skin [we love this Clabber Girl, Corn Starch at Amazon] and then spread the wax evenly in the direction of your hair growth.
Then take a strip of cotton cloth and place it securely on the wax before pulling the hairs out in the opposite direction of growth. Pull the piece of cloth quickly with pressure for the best results.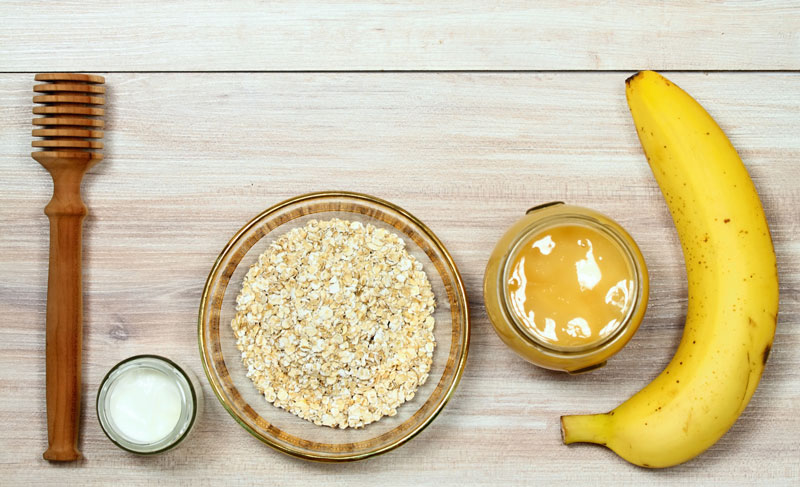 Oatmeal and banana can be a good breakfast option. However, the combination of both these items is even better when you use it as an effective remedy to remove your unwanted hairs successfully.  It has been used by modern women not only because of its hair removing abilities but also because of the other benefits this paste provides to your skin.
Oatmeal is an extraordinary hydrating scrub. It removes and scrubs dead skin cells, blackheads and product buildup from the skin surface to make it glowy and perfect. When it is combined with a ripe banana, the nourishing properties it makes your skin even softer and smoother than ever before.
You favorite oatmeal
Ripe banana
You can make this incredible natural hair remover with the least amount of effort. First, take a ripe banana and mash it perfectly to make a paste. Then mix 2 tablespoons of your favorite oatmeal to it nicely so that it forms a thick paste, and voila, it is ready.
The application process of this paste is the easiest in the lot. Just take a generous amount of this oatmeal banana mask and apply it in a circular motion on the desired area. Let it dry for 15-20 minutes before washing it off with lukewarm water.
Now that you have an amazing list of different homemade hair removing creams and wax recopies, we can hope that you would use them to get rid of your unwanted facial [upper lip hair, jawline hair] and body hairs safely and improve and enhance the look and feel of your skin in no time.
So, what are you waiting for girls? Go to your kitchen right now to makes any of these remedies and let us know your experiences below.
Some Questions We Get Regularly
Is the oatmeal and honey mask suitable to remove facial hair also?
The oatmeal and honey mask is extremely effective for facial hair remover. It doesn't matter If you are using it to get rid of upper lip hair or your jawline hair, this paste is super gentle on your sensitive skin and doesn't damage it at all.
How often can I use the honey lemon paste for my facial hair removal?
Even though honey is extremely hydrating for your face, for facial hair removal, using it twice every week would be just fine. This practice will not only remove your facial hair successfully but would also make your skin soft and touchable.
How long does it take for the hairs to grow back?
The time requires for the hair to grow back depends on the individual hair growth cycle. For some it might take weeks, for others, they might need to remove their unwanted hair every other week to flaunt smooth hairless face and body.