Try An At-home Laser Hair Removal
If you want to get rid of your body hair and hair follicles permanently, then what could be better than to try laser hair removal treatments?
At-home laser hair removal treatments would not only give you the perfect and permanently smooth skin this summer but at the same time would also save a lot of your money and time as well.
However, as an at-home laser treatment requires a tool and it's a permanent procedure, you must keep a few things in mind before trying it out. For safe laser hair removal treatments, don't forget to consider:
Your skin color plays a vital role during laser IPL hair removal treatments. Even though it is a common idea that people with darker skin tones cannot try laser hair removal treatments, it's a complete misconception. It doesn't matter if have lighter or darker skin, with the right tool and right light intensity, getting rid of unwanted hair couldn't feel easier.
A IPL hair removal tool, like this Silk'n Infinity – At Home Permanent Hair Removal At Amazon , is not only gentle on even your dark skin but at the same time also removes hair follicles precisely to give you the most gorgeous, hairless skin this summer.
Similar to skin tones, your hair color also plays a role in safe laser hair removal. As a laser tool cannot detect white, blonde, grey or red hair follicles, there is a high chance that you won't be able to get rid of them using this tool. If you have these hairs, the laser light won't be able to focus on hair follicles and therefore, might burn and damage your precious skin instead.
Not all the laser tools are safe for your sensitive skin. Similarly, not all devices work on all skin tones. Before using a laser tool make sure that it would work safely and effectively on your body. If you are unsure or cannot decide what would be the best for your skin, get a laser device that works perfectly on every skin tone and hair color. Laser hair removal devices and treatments are safe if you know what and how to do.
Preparing your skin precisely before laser treatment is crucial. Experts emphasize on skin preparation stage because it not only ensures quick satisfactory results but at the same time also protects your precious skin from any potential burns and damages. And that's why, before using a laser light device, make sure to prepare the intended area perfectly.
In addition to considering your skin and hair color, you must also keep in mind about the aftercare. If you want to maintain a healthy, glowy skin after laser treatments, you must follow more than a few tricks so that everyone envies you at the beach.
Don't Forget To Apply a Sunscreen
In between your laser sessions or even when you get rid of all your ingrown hairs, never ever forget to apply a high SPF sunscreen [we prefer this Neutrogena Ultra Sheer Dry-Touch SPF 55 Sunscreen Lotion At Amazon] whenever you hit the beach or are out and about in the sun. Applying sunscreen is so important for laser-treated skin because it protects your treated body from the harmful UVB and UVA rays and keeps it cool so that there are zero chances of skin burns and damages.
Shave in-between treatments
When you are trying a laser hair removal procedure, remember that it won't show permanent results instantly. You might have to wait for at least 6-8 sessions to achieve that smooth, perfect hairless skin that you have been wanting.
So if you need to wear a bikini or flaunt your body in-between your treatments, what should you do?
Well, you can always shave your body and get rid of all the left hairs so that you don't look unflattering in any party or even at the beach. Shaving with a razor in between laser treatments is completely safe and it is even encouraged by professionals.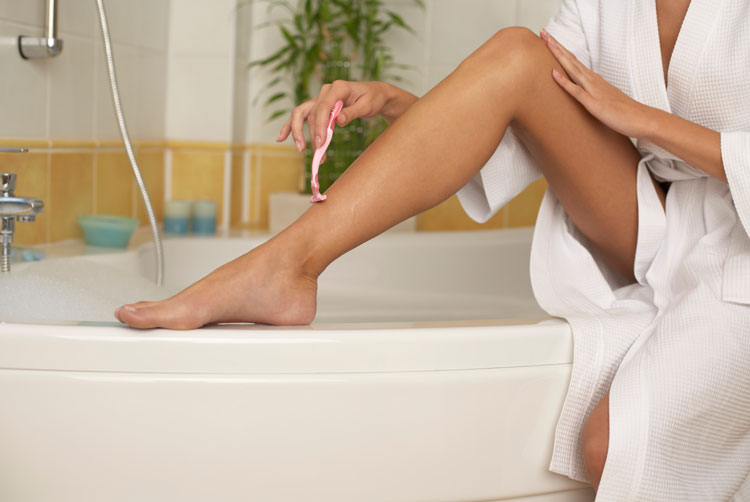 Shaving Could Be An Excellent Alternative
If you don't want to go through all the hassles of an at-home laser hair removal process yet still want to show off some gorgeous skin without unwanted hairs, then shaving would be an excellent alternative for you.
Shaving is one of the most traditional and common methods of hair removal tried by women all over the world. If you want to get rid of all that unwanted body hairs quickly at a minimum cost, there is no alternative to shaving. It doesn't matter if you want to shave underarm hair, leg hair or even facial hair, the right razor promises you to provide the best results promptly and that too at the comfort of your own home.
However, even though shaving your body is easy and convenient, you need to prepare your skin perfectly so that your sensitive skin doesn't suffer from any razor burns or damages afterwards. The best time to shave the body is right after a warm shower when the skin is still hot and the hair cuticles are still open. This makes sure that your ingrown hairs are removed precisely for smooth, slippery skin.
Before shaving, apply a shaving cream or gel [you can try this Aveeno Therapeutic Shave Gel At Amazon] to soften the area even better. Then take a super sharp razor, like the Gillette Venus Extra Smooth Green Disposable Women's Razor At Amazon, and shave carefully so that you have flawless skin without experiencing cuts or scars.
Once you are done, apply your favorite moisturizer to soothe and hydrate the shaved area.
However, you have to keep in mind that, unlike laser hair removal treatments, shaving is not permanent. You will see ingrown, prickling hairs a few days after you have shaved. To flaunt hairless bikini body, you have to keep on shaving every now and then.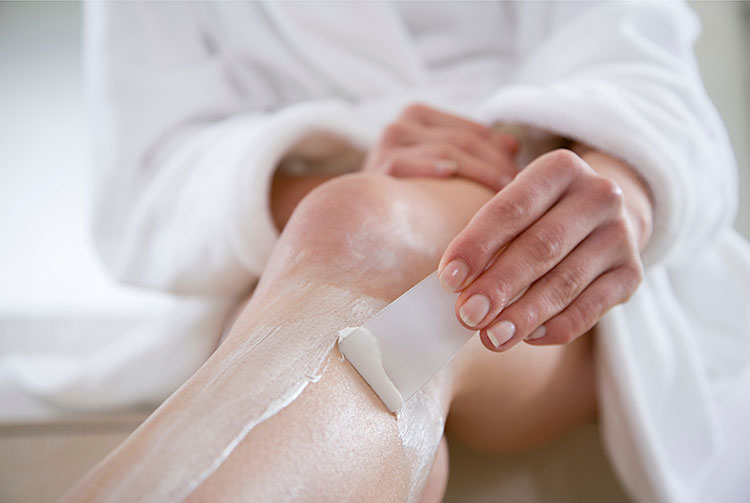 Don't Underestimate The Hair Removal Creams
If you are afraid of blades and don't want to go through the frightening process of shaving, never hesitate to try out hair removal creams this summer. Hair removal creams or depilatory, however you call them, have been a huge rage amongst women not only because they remove unwanted hairs quickly and safely but also because they are painless and offers long-lasting results.
This cream has been such popular among women because of their prompt and perfect results. A hair removal cream, such as the Veet Sensitive Hair Remover Gel Cream At Amazon, loosen the hair from the root and breaks the bond between them so that when you wipe and rinse the cream off of your skin, the hairs come out easily without any extra effort.
But then again, even though these creams don't have any known side effects, before applying a hair removal cream on your body, make sure to do a patch test first. As it is a strong chemical that dissolves your hair roots within a couple of minutes, it can be allergic to your skin. A patch test before 24 hours would determine if the cream is reactive on your skin or not. If it causes any redness or irritation, don't think twice to throw away the cream for good.
A Few Extra Tricks to Keep in Mind
In addition to all these tips, let's also share a few extra tricks so that getting hairless, gorgeous skin is no longer a dream this summer.
Don't try to tweeze your body hair. Tweezing is for shaping eyebrows or doing upper lips- this hair removal method would not only be time consuming but also painful if you try it on other parts of your body.
When doing the bikini area, be very careful. As this area is super sensitive, a slight inconvenience can cause great damage to your skin.
Exfoliate your body more often than not during the summer. This will not only remove the dead cells but also won't clog the pores and makes your perfectly hairless skin look bad.
As summer is knocking at the door, it's really the time to get ready to hit the beach. And with our hair removal guide, we can hope that you would flaunt the most gorgeous, silky body at any of the beach or pool parties and grab a lot of eyeballs.
Question I Frequently Get From My Readers
Can I use a body mask right after a laser session?
Right after the laser session, your skin is super sensitive and prone to damage. It's the best that you avoid any type of topical products like body mask, cream, lotions or even oils for a few days after the therapy. This will make sure that your sensitive body skin is safe and not reactive.
Are hot showers bad for laser-treated skin?
If you want to take a warm bath right after laser therapy, it is highly discouraged. This is because, after the laser light removes your stubborn hair, your skin remains hot for a few hours, and a hot shower at this time can burn your skin and harm it greatly.
However, after a couple of hours, you can take a shower and relax.
What should be the interval between each hair removal sessions?
The interval between each hair removal session greatly depends on your hair growth cycle as well as the method of hair removal you are using. And as each individual is different, we cannot state any definite period here.
What hair removal method should I try this summer?
The hair removal method you should try largely depends on the type of results you are looking for and your budget. If you are looking to permanently get rid of your unwanted hairs, a laser hair removal treatment is the best to go with.
On the other hand, if your budget is not so high and you also don't want to try any tools, trying out shaving, waxing or depilatory would be an excellent choice to make.
Is it safe to do a laser hair removal in the summer season?
It's the best that you get a laser treatment before the summer starts. This is because, during the hotter seasons, your skin gets exposed to the sun greatly and direct sun exposure before laser light treatments are not advised. The heat from the sun makes your skin hot and when combined with the light from the laser, it has the potential to burn your body badly.
Which of these hair removal procedures last the longest?
As laser hair removal is a permanent solution for unwanted hair, it makes sure that your unwanted hairs never come back.
Are there any natural ways to get rid of unwanted hairs in the hot seasons?
Several natural remedies would help you to remove unwanted body hairs easily. You can either try a turmeric paste or an oat and banana mask to get rid of those hairs without affecting your skin.
Does gel toothpaste really help to remove hair?
The most straightforward answer to this is that neither gel toothpaste nor other types of toothpaste can help to remove your body hair. Do not try these as they have the potential to burn your precious skin.